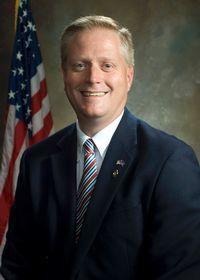 U.S. Rep. Fred Keller (R-12) is back in Washington, D.C. after an end of summer district work session filled with getting to know his new constituents even better, whether it was with a stop at a small-town fair or meeting with local industry leaders in the fields of energy, health care and those looking to bring broadband through the rural areas.
Speaking with The Review before work began to kick off the new legislative session Monday evening, Keller stressed that his focus will be on the country's families and workers — in line with President Donald Trump.
"I know that a lot of people say that the president may be unconventional with a lot of things, and he might be, but quite frankly I welcome that because it's finally getting us some results," said Keller. "It's about time. Our president was elected in 2016 because he was going to handle things a little differently and put America's families and America's workers first, and it's about time that colleagues on the Democrat side of the aisle get on board with that and stop trying to delay the progress that the administration wants to make."
Specifically, Keller called on Speaker Nancy Pelosi and Democrats to stop delaying a vote on the United States-Mexico-Canada Trade Agreement designed as an update the 24-year-old North American Free Trade Agreement.
"In my estimation, if we can't even get that deal done with our neighbors, Mexico and Canada, what incentive does China have to come over and try to work out a trade agreement with the United States," Keller added. "The delay tactics from the Democrats need to stop and we need to get down to work."
Focusing more on his work meeting with constituents locally, Keller said one of his priorities will be ensuring that rural Pennsylvania is able to get the broadband it needs to support industry, such as natural gas, and even agriculture, whether it's through tax credits or other incentives.
"Touring some of the farms, you look at the farm machinery, how farms are operated today, they rely on internet access to get data, to transmit data," he explained. "They keep track of many things."
Keller added that there needs to be more transparency with broadband mapping, while "also making sure that any government dollars that are invested, that we define properly so that companies providing the service get it out to as many people as possible." As conveyed during a recent listening session Keller had at Claverack Rural Cooperative, these maps have relied on information provided by providers and have been found inaccurate in a recent study conducted by Penn State University and the Center for Rural Pennsylvania.
Focusing on the natural gas industry, Keller touted its importance to the region and said he wants to make sure it can continue to serve Pennsylvania with good paying jobs and low cost energy options.
"You're talking 300,000 jobs in Pennsylvania, you're talking billions of dollars into the Pennsylvania economy, and saving the average household around $1,100 a year on energy costs," Keller said, adding that some of the largest producers are right in the 12th District.
Keller also highlighted the need to reduce the load of paperwork associated with processing Medicare and Medicaid insurance, which could be beneficial for medical practices, as well as updating regulations so that lower cost generic medications can become available to those who need them.
"With prescription drugs and some of the bills that are before Congress, we are seeing what we can get done to make sure that generics be made available and drug companies just can't change a formula or change a capsule to a pill and try and extend some of the patents, so there's some work that we have to do," Keller said, noting that a hearing on the issue was held before the August work break.
Reflecting on his tour of the 12th District, Keller said it was a good opportunity to get in touch with the constituents who overwhelmingly elected him to office during a special election in May. Keller defeated Democrat Marc Friedenberg in a bid to fill the unexpired term of fellow Republican and long-time representative Tom Marino, who stepped down in January due to health issues.
"I won by as much as the president did because I promised to come down here and help the president help American families and American workers," Keller said.