Chief clarifies Canton conflict, already offered to pay 'more than our fair share'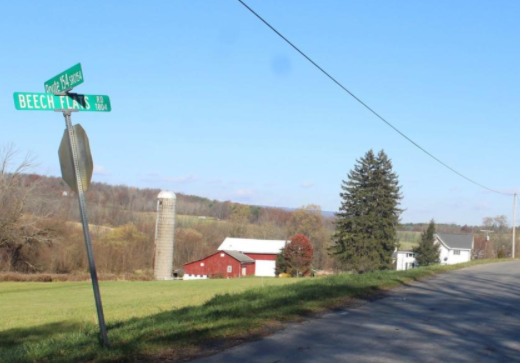 CANTON — Chief Oil and Gas LLC has responded to action taken by Canton Township supervisors last week to potentially suspend the company's use of Beech Flats Road.
After Canton Township officials made claims that they would suspend Chief's use of Beech Flats Road due to an alleged refusal by the company to complete a road maintenance project agreed upon in contract, Chief's Public Relations Manager Jonah Howe has offered clarification that Chief offered to pay for 50 percent of the chip sealing project before the township moved to suspend them from the road.
In a letter sent to Canton Township Road Master Bob Petrowski on Oct. 22 from Jeffery Deegan, Chief's construction and regulatory manager, Deegan stated that Chief has not accepted full responsibility for the upkeep of Beech Flats Road as the company is only one of many businesses utilizing the roadway but that they had offered to complete "more than our fair share" and pay for half of the tar and chip project "weeks ago."
Deegan stated that Chief had been searching for a "competent tar and chip contractor" to complete the project.
Howe added that Chief "invested significant funding toward roadway upgrades, to support heavy hauling activities and minimize deterioration" when entering into the road use agreement with the township.
"We have continued to execute proactive maintenance practices for the past few years, since the agreement was originally established. At this time, the township is requesting that Chief completes a road preservation practice known as chip sealing. Oil for this type of project is not available during late fall and winter months. Road construction contractors, as well as PennDOT, recommend scheduling these activities in warmer months," Howe stated.
In the letter sent to Petrowski, Deegan stated that the company has personally witnessed other companies using the roadway and listed four specifics examples including the "Strike/ETP Pipeline storage yard on the Moore Farm starting in May of 2018, Rockdale Marcellus LLC, Pad Billing and Drilling the Castle 4H Well in early 2019, Hawbaker hauling to the State Route 414 Slip Repair from Minnier Quarry in 2019 and local loggers and Game Commission timber sales from SGL-12 during numerous projects."
In the letter, Deegan told that Chief's offer to pay 50 percent of the tar and chipping project's cost "still stands" but that the company has been "strongly advised" that they would be "wasting their money this time of year as repairs will not adequately bind the road and stone" due to cold temperatures.
Howe stated that Beech Flats Road is safe for travel however, as determined by a third party inspection service.
"Beech Flats Road is currently in good condition and is safe for the public to travel. We have hired third party inspection services to verify those conditions," he stated. "Public safety, open and honest communication, ethical business practices and good neighbor initiatives are all an important part of how we conduct business in each of the communities we live and operate in. We take pride in supporting the Canton community through public outreach events and maintaining safe roadways during our operations is crucial."
"The dialogue that we're trying to have with the township is that Chief has historically been responsible and accountable for hauling activities on their roadways and we're asking them to fairly require other companies, who are active on Beech Flats Road, to establish the same agreements and do their part," Howe continued. "We have enjoyed working with the supervisors in the past and look forward to preserving that relationship."