Fire takes family home in New Albany, official stresses importance of heating maintenance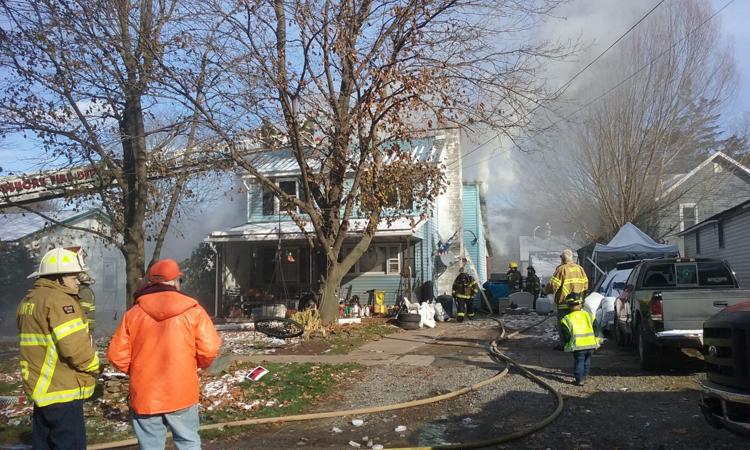 NEW ALBANY BOROUGH — A New Albany family is organizing recovery and fundraising efforts after a chimney fire took their home last week — a home that had been in their family for more than 75 years.
Jacklyn Fitzgerald told The Review on Sunday that her husband, Craig, was home at the time of the fire, around 1 p.m. on Wednesday, with their two toy poodles.
All escaped without injury, but the fire that started in the home's chimney took New Albany fire crews over three hours to knock down and claimed all but a few of the family's possessions.
Jacklyn Fitzgerald said that she rented the home that has been in her family since the 1940s when her husband's grandparents bought it. "It hasn't really hit me," she said. "We moved in 10 years ago when my daughter was only a few weeks old."
The home on Main Street in New Albany was insured by the owner, but the Fitzgeralds did not have renters insurance.
Currently, the family of three is staying in a one-bedroom apartment that a neighbor rented out to them while they search to replace all of their possessions through donations.
The family has set up a GoFundMe page at www.gofundme.com/f/2yaqa8-fire-recovery? .
The Red Cross and Salvation Army also aided in recovery efforts.
The family is in search of a home to rent in the Wyalusing School District.
—
Err on the side of caution when it comes to heating sources
Towanda Fire Chief Bill Roof told The Review on Sunday that it is typical during the first cold snap of the year for a spike in home fires, but this year has been especially busy in the past three weeks.
Recently there have been multiple fires that have claimed homes with the source of many of the fires tied to heating units.
Last week in Monroe Township a home of 10 people burned down from a fire that began in the basement near the wood stove, and in October a mobile home in Towanda Township exploded from a propane leak.
Roof said it is imperative that people maintain their heating equipment in their homes, especially before the cold season sets in.
He said that people should always err on the side of caution.