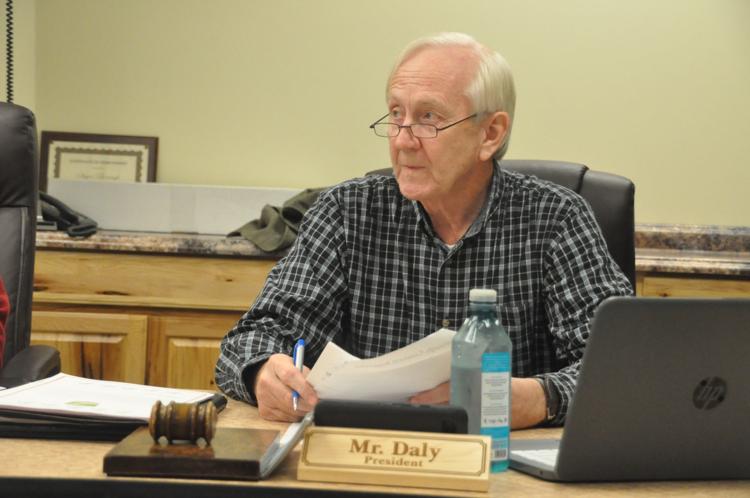 SAYRE BOROUGH — Sayre Borough is poised to hold property taxes steady for a 10th year under a tax ordinance approved for advertisement Wednesday as part of the proposed 2020 budget.
In all, the 2020 spending proposal equals $9,294,142, which is $925,345 less than the current budget, and a millage rate of 10.37 mills. The General Fund and Sewer Fund that were also approved for public review Wednesday represent the two largest segments of the budget, at $5,294,972 and $2,558,330 respectively.
"We were very fortunate we didn't have to do it (raise taxes) this year, and the fact that we didn't increase had nothing to do with cutting something," borough Manager Dave Jarrett explained.
There will also be no increases in sewer fees, which this year had increased from $137 to $141 per quarter.
In her cover letter to the borough council and Mayor Henry Farley, Treasurer Liz Fice noted challenges related to increased costs of fuel, pensions, benefits, and landfill fees for the general fund, with the cost of infrastructure projects and debt service providing challenges for the sewer fund.
"We sharpened our pencils and tightened up all general fund expenditures as much as possible without having to cut any services," Fice wrote. "We have reduced but not eliminated the amount being placed in the Capital Reserve Fund, which allows us to still save for the next capital purchases. The borough manager continues to apply for grant funds, which allow for major purchases or projects to be done using minimal funds of the borough. By doing these things we were able to hold the line and no increases are required this year for our general fund."
With the $2,558,330 sewer fund, Fice said tightening up expenditures and "an outstanding effort put into the collection of sewer fees" helped offset any increases there.
Fice noted that there were no changes in the UDAG Fund ($240,250), Parking Lot Fund ($100,780), Capital Reserve Fund ($905,465) and Liquid Fuels Fund ($194,345). In all, the 2020 budget equals $9,294,142.
Jarrett said the borough is already looking at the financial picture for the 2021, and there is a possibility that property taxes might not have to be raised again. But by the time the 2022 budget comes around, Jarrett said, "I think it's inevitable."
"The concern with previous councils has always been: Are we going to get a big, proverbial punch in the nose someday? And we assured through the budget process that we will not let that happen," Jarrett continued. "Every month, council gets this 40-some page report that tells you where you stand with every line item and we monitor it. If adjustments have to be made mid-year they are made mid-year. If budgets have to be frozen this time of year we will freeze them — we just won't approve purchase orders. Our department heads do an outstanding job of staying within their budgets. A line item here or there might go over, but then line items that are under help balance it out."
Jarrett noted that some measures have been implemented over the years to help offset expenditures, such as the Local Services Tax approved in 2016 that required those working within the borough to pay $52 a year. With impact fee money generated from the natural gas industry, Jarrett said the borough has been careful with its use since it won't be around forever.
The proposed 2020 budget is currently available on the borough's website. An official public display period will take place between Nov. 4 and 15 at the borough hall and Sayre Public Library, with a final vote from the council expected on Nov. 20.