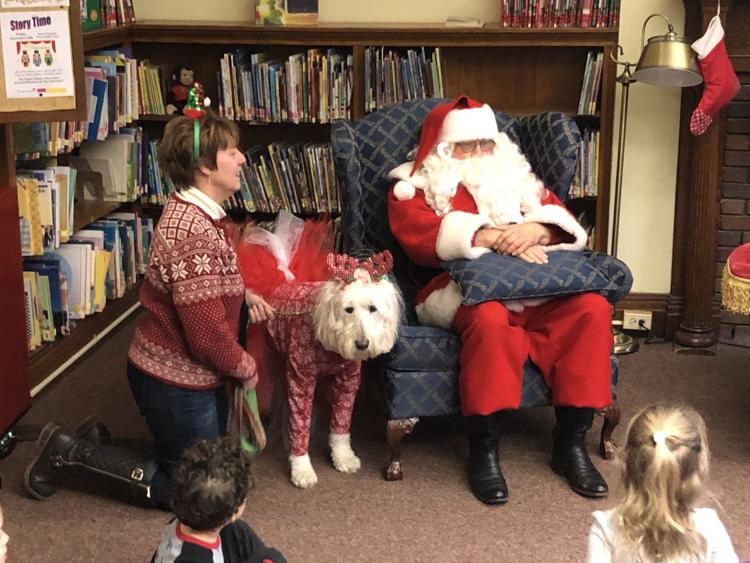 ATHENS – Christmas came to the Spalding Memorial Library in Athens as Santa read to the children and Child Hunger Outreach Partners supplied food goods to families in need that came on Friday.
Interim Assistant Director of Spalding Memorial Library Meaghann CampBell was excited to have a collaboration with CHOP this year.
"We had a meeting a couple months ago and Dani came and talked to us as a library system," stated CampBell. "We thought it would be an amazing idea to have this over the holiday season and we knew we were having Santa Story Time so we knew it would be a natural pair. We have lots of young families coming in with their kids. Being able to pick up food on the way in or way out – we thought it was a really cool idea."
As folks made their way inside the Library, CHOP stood along the sidewalk to provide food for families in need.
"This is super exciting, we are always looking for ways to collaborate with other outreach programs," stated CHOP Director Dani Ruhf. "We are always looking for ways to incorporate getting food into the community."
Last year the library had around 120 people arrive between the two hours of the event.
"We have Mellie the therapy dog here, Santa is going to be here and now CHOP is joining in. It is going to be great," related CampBell. "We had 70 people during the 10 o'clock last year and 40 during the 11. We are hoping we are getting some more people or even the same amount of people and we can give away all this food."
CHOP is making further moves in the community and has taken on Sayre, Troy and Athens school districts, according to Ruhf. They are also looking to open up in Tioga and Wyoming Counties in the beginning of 2020.
"It's everything I had envisioned on a faster scale than I had planned," said Ruhf. "It is creating its own challenges, but they are all great challenges — they are the best problems to be having."