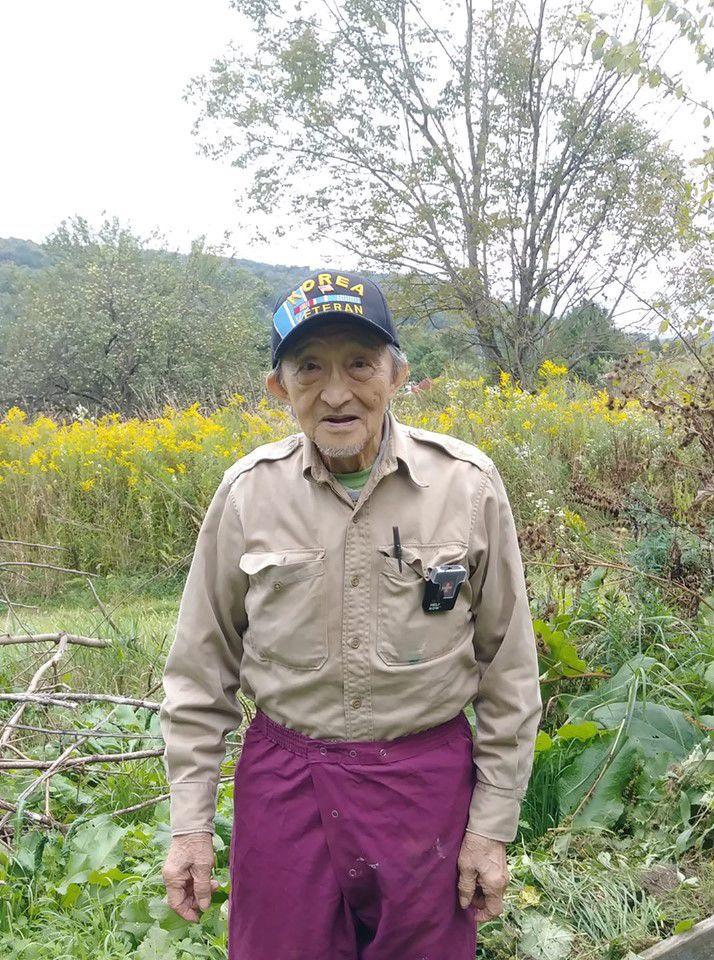 WINDHAM TOWNSHIP — The community is stepping up for a local Korean War veteran whose home had fallen into such disrepair that when Pennsylvania State Constable Jim Canning recently arrived to serve a tax notice, he thought the home had been abandoned — until he saw a light on inside.
After making his way through heavily overgrown weeds and having to leave his card, Canning ended up connecting with 90-year-old Raymond Dick and learning about his story.
"I decided that I wasn't just going to stand by and watch this elderly Korean War veteran lose his property over years of taxes, so I thought I would do something," said Canning.
An official fundraiser started after Canning shared the veteran's story and found that people were willing to donate.
In fact, a Help for Raymond Facebook fundraiser set up on Saturday has already brought in more than $7,500 from 189 people.
"In a very short amount of time we raised enough money for his taxes, so anything being raised now will go toward repairs," he said. "My god, there's so many people and volunteers wanting to come up and do stuff, companies donating equipment for them."
The Audie J. Mincer PTSD/Cancer Awareness Benefit purchased a new refrigerator that will be delivered to the home, according to Canning. There are also workers who are checking out the leaky roof and interior damages that resulted, which is why Dick's wife was no longer able to live in the home.
"If we can get that taken care of, she can move back in," he said.
According to the Facebook event page, organizers have also welcomed donations of water for Saturday's workers, and a contractor to repair Dick's roof, although they are still asking for a port-a-potty, firewood, washer, dryer, fuel oil for winter heating, coolers of ice for the water, and food for the workers.
On the event page, co-organizer Terrie Schoonover stated, "God put Jim where he needed to be."
"I'm just a younger veteran trying to help out an older veteran," said Canning. "Especially our senior vets who fought in World War II and Korea, they shouldn't have to live their final years worrying about keeping their homes. This guy gave two years of his life to serve in Korea. I think that doing this for him is the least we can do."
Saturday's work bee will include volunteers with brush hogs to tackle the overgrown weeds, while others will take care of cleaning inside the home, moving appliances, and taking care of other needs.
"There's a lot of trash," Canning said, with hope that they will get a dumpster donated for the site. "There's a lot of manual labor that will be needed."
The work bee is scheduled between 8:30 a.m. and 6 p.m.
Any excess donations will be dedicated to setting up a non-profit to help other needy veterans in the area.
"There's a lot of veterans in this county facing the same situations," said Canning.
Anyone interested in helping out Saturday is asked to send a message through the Help for Raymond Facebook event page.